SELL A PROPERTY IN SPAIN
Important things you need to take into account when you decide to sell a property in Spain
Costings and taxes: please ask us about any of these we can give you update information relevant to you
Plusvalía, Non-resident Tax, Capital Gains, Lawyer Fees, Sales Commissions, Energy Certificates, Administrator Certificate, Council Tax and Garbage.
Once you have instructed us, we will provide you with a free in-person valuation of your property by a local expert. We will take time to fully understand your position, your reasons for selling, and your preferred timescale.
Once you have instructed us, we will arrange an appointment for a photographer, and produce a preview for you to approve with detailed photos and description.
As soon as you give us the green light we will proactively call our database of hundreds of qualified buyers, as well as listing your property on our web site and all the major portals.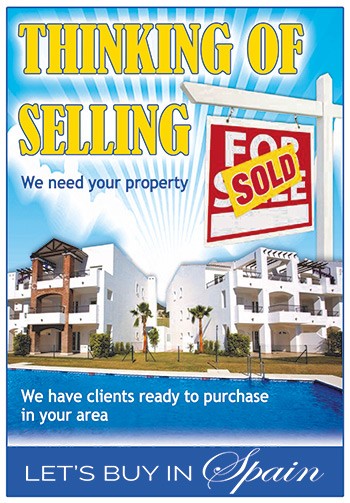 For compliance we will ensure your property has an up to date Energy Performance certificate and order you a new one if required.
All viewings are accompanied, and following very careful buyer qualification & verification. We also take detailed notes of the buyer comments and rating, so we can discuss with you and agree areas where we may need to change our approach.
No one comes to view your property unless they are thoroughly vetted and qualified, and we are there for every viewing to guide the buyer through your property and show it to its very best potential – nothing is left to chance.
Once we have secured an acceptable offer, we are in constant communication with the buyer, any mortgage provider, solicitors and surveyors to keep your sale on track. More than 30% of all purchases fall through after an offer has been accepted, and so we stay close to everyone involved, and keep you fully updated at all times, so we can maintain momentum and successfully close that sale!
We will be with you from valuation to completion to ensure your sale stays on track.
Please feel free to contact us and we will happily give you a free valuation!